The Power Behind the Scenes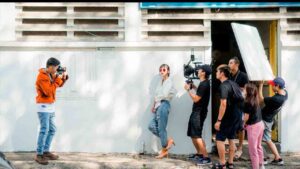 "I like being behind the scenes, but I do not like getting a headache," the famous stand-up comedian and author Phil Ochs once said. You can take note that in the beginning he did not sound like he likes being in the limelight or what he was doing. Nevertheless, his words have struck a chord, especially in the minds of many. He was right then, and he is even more so now.
To be frank, I like being behind the scenes; however, if I had to choose between being in front of people and being in the limelight, I would always pick being in front of people. That's because I like being involved with my own company. And when you become part of your own company, you realize just how much fun it is when you can actually get involved.
In most instances, I also do not like being on the stage, but that's simply because I like to have some privacy. But I do not want to spend my whole time in front of the audience; thus, I prefer being behind the scenes.
Behind the scenes, I have discovered that I like spending my time in my car, in the kitchen, cooking food for me, and being able to watch my favorite TV shows. I also enjoy spending my time reading magazines and books. The only thing that is missing is being with friends. I am not really a social person.
I am more of a private person, and I tend to enjoy spending time with friends, or even just a night out with my wife. But with being behind the scenes, I tend to enjoy spending most of my time at home, especially if my wife is out of town.
My favorite hobby is photography. As you may have noticed, I am constantly taking pictures. There are several reasons for this; one is that it allows me to capture beautiful memories of my travels. In fact, I find that I enjoy photography more than anything else when I am alone.
Sometimes it's time for me to go shopping. And once I'm home, I really like to just sit down with my camera and do nothing but take photos. However, there are times when I want to take a walk through a park or spend an evening on the beach.
In conclusion, there are many things that I like about being behind the scenes; however, I also love it when I am able to enjoy my life online. And I do not mind sharing it with others.
Being in your life online is really a great idea. When you are away from home, you can interact with your friends, family members and loved ones. But if you don't get involved in conversations online, you might miss some of the best things that happen in your life.
One example is when you get invited to a birthday party, you may not get a chance to go to it. However, you will be able to experience the birthday party online, and get involved in all the activities, even though you may not be able to attend.
You might not get to attend your wedding, but you can still share in the festivities by joining in the planning of the day. You may not have the opportunity to dance on the dance floor with your friends and family, but you can still get involved in all the other aspects of their lives. You might not be able to go to the office of a boss, but you can still be a part of what they do.
It is amazing how much fun you can have in this social life. You might get to learn more about the other lives of your family and friends because you can read blogs, comment on forums, and ask questions.
My point is that I love being behind the scenes because I am able to enjoy my life online. And if I'm not enjoying it, I can try to be active in the social media.